U4V Toolbox
Welcome to the U4V Toolbox! U4V Toolbox is a collection of recommended methodologies and workflows, case studies, reference documents, external web sites and other supporting materials, guidance documents and best practice documents addressed to supporting local communities to make value in a sustainable way of their Underground Built Heritage (UBH) sites.
The Toolbox's scope is giving to the users a feel of what can be achieved on their own and addressing issues with a fraction of the cost. U4V Toolbox is based on the Strategic Transition Practice (STP) , structured in four phases and 8 flexible building blocks to help communities to develop their specific social practices and find their way for valorising their Underground Built Heritage.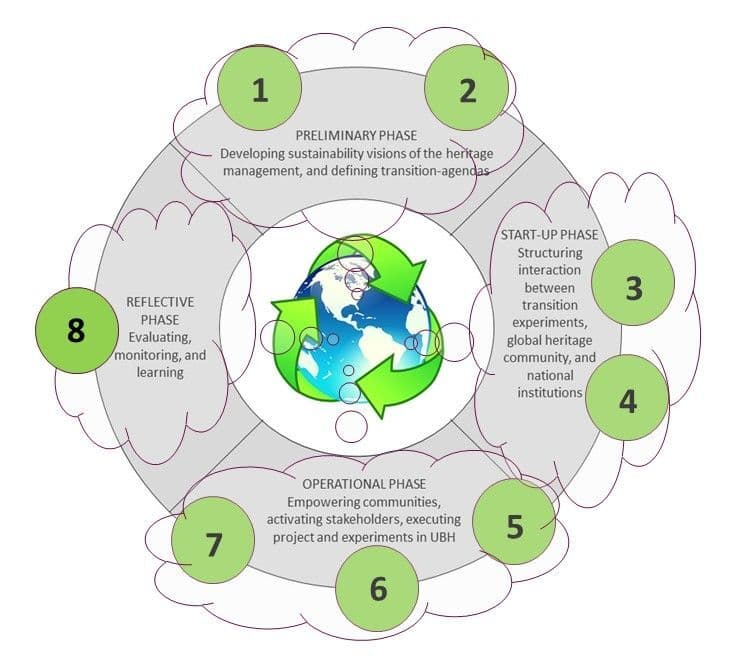 Discover our tools
The Toolbox includes a wide range of TOOLS developed by the COST action CA18110 Underground4value partners, which are free resources that local communities can use to assist the development of new initiatives or implementing existing projects. To help you find what you need, we classified these TOOLS in four different categories:
1
Tools for stimulating, developing, and supporting experiments
such as Living Labs, in a practice-oriented modulation, aimed at shaping processes of Strategic Transition Practice (STP), Strategic dialogue, Co-evolution, and co-creation (Searchlight, Options, Choice)
2
Tools for an Underground Built Heritage knowledge base
such as UBH descriptors, classified by typology and function, collection of data, historical analysis, and geographical positioning, 3D, ecological landscape, etc… (Searchlight, Inside-out analysis).
3
Tools for UBH strategic valorisation
which expand the HUL approach to UBH and related cultural landscapes, by adapting the HUL tools to the UBH specific contexts, disseminating the approach and facilitating its implementation (Outside-in Scenarios, Choice, Operationalisation)
4
Tools for UBH non-invasive diagnosis assessing the state of the UBH conservation
innovative ICT tools systems for monitoring, sensors for data collection, multi-scale approaches, and other innovative technologies for a better visitors' fruition of the sites, security measures, etc… (Options, Execution, Monitoring)
To better support different types of local promoters, U4V Toolbox focusses on a set of simple and critical questions, addressed to check the needs of the users in terms of tools. Through a decision tree approach, each question calls for answers, completed by statements, methodologies, approaches, technologies, experiments, and case studies.
These logic questions, connected to the STP's 8 building blocks, will guide the users (local promoters, municipalities, practitioners, scholars, community leaders, and stakeholders) through a step-by-step approach to the tools for implementing valorisation projects of UBH sites.